This is a Sponsored post written by me on behalf of Tree Hut for SocialSpark. All opinions are 100% mine.
Did you know that I started my chemical free kick when I found out I was pregnant with my first baby? A co-worker had told me about the nasty chemicals in some of the popular children's bath products and this made me take a deeper look into everything I was using in my home. From food to cleaning products and everything in between, I slowly started making the change into a more natural lifestyle.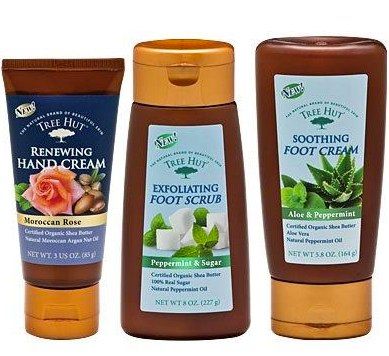 Since my kids use chemical free products during bath time, why shouldn't I? Tree Hut makes it easy to make the switch and have a wide variety of personal care items, such as Tree Hut foot cream, bath soap and more. Their items are easy to find at Walmart and created to leave your skin feeling great, without parabens or DMDM.
Tree Hut hand cream and foot scrub are both made with Certified Organic Shea Butter and Natural oils to leave your skin supple and smooth. The foot cream includes the famous Argan oil which seems to be very popular these days and in all the high end beauty products.
All Tree Hut products are made in the USA from high quality ingredients and not tested on animals. I love the idea of the Tree Hut foot scrub with flip flop season in full swing. No one wants to walk around with dried up crusty feet!  Maybe I can somehow convince hubby to give me a footrub with some of these great Tree Hut products!
After you feel comfortable in your skin, it's time to show it off! Check out my perfect summer outfit – comfortable, breezy, and still fashionable!
You can find out more about Tree hut by joining their online community and like Tree Hut on Facebook or visit Tree Hut on Twitter.